The values at our core...
We learn. We improve. We build.
Over 20 years' experience operating world class infrastructure, yet we continue to learn, evolve and improve with every project delivered.
Ideas and knowledge are shared widely, debated openly and embraced. We listen to our people, and we listen to our clients. We are not scared to change or to improve.

.
Ambition is encouraged. Action is empowered. We invest in our people, we believe in our people. Every team is empowered to solve problems quickly and efficiently.

The work we do is challenging, working with us isn't. Which means you can focus on your challenge, while we make it happen. You can trust us to deliver.

Our ambition
To be the most trusted, dedicated infrastructure operator, serving the world's high-growth, hyper bandwidth market.
To this aim, we are rooted in clear focus and the proven capability for building robust, leading edge infrastructure. We excel at delivering the network scale of an industry heavyweight, with the agility of a swift-footed challenger.  
Our teams unite technological brilliance, with engineering expertise and their contribution to global transport and infrastructure has been widely recognised and awarded. Together, we are driven to create and share growth with our clients.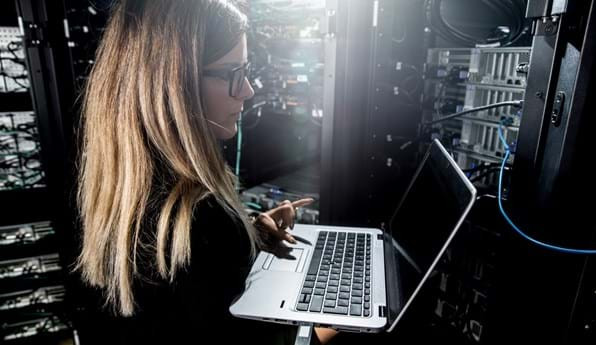 Our expertise
With over 20 years' experience of building resilient infrastructure, we've learned that the most demanding organisations deserve the very best. We've delivered complex builds for the most challenging business environments:
Mission-critical networks for governments and enterprises
Hyperscale infrastructure for the world's most innovative and influential businesses
Ultra-low latency networks for Financial, Gaming and Broadcast services
Expansive connectivity to underpin carrier, mobile and internet backbones
We are the trusted infrastructure provider to 8 out of 10 of the Forbes top digital companies globally.
Our vision
At EXA, we dedicate our energy, expertise and skills to one thing – the creation and delivery of infrastructure, meaning we own and operate one of the world's most extensive networks connecting Europe and North America.
We build infrastructure for information and for growth. Growth without a pathway is aimless. Growth without a network is limited. We make growth inevitable and scale sustainable.
In our business, our clients find partners; in our network, they find the access they need to new markets, new audiences, new possibilities.
Watch the Video to understand the EXA vision.
Leadership team
Martijn Blanken
Chief Executive Officer
Martijn is the Chief Executive Officer of EXA Infrastructure. With extensive experience in CEO and executive leadership roles, he has built a successful track record of delivering growth in complex international environments. Before joining EXA Martijn served as Senior Advisor to Digital Infrastructure investors, and led the acquisition of EXA by I Squared Capital. Martijn was previously the Group Managing Director of Telstra Enterprise and served on the Executive Committee of Telstra Corporation. During his tenure at Telstra, he also was the CEO of Telstra Global, which under his leadership transformed into the leading service provider in Asia Pacific. Prior to his time at Telstra, he was the SVP for Asia Pacific at Openwave Systems and has also held several executive positions at KPN Royal Dutch Telecom. Martijn has lived and worked extensively across Asia, Europe, Australia, and the Americas, and holds an MBA from the University of Groningen in the Netherlands.
Chris McKee
President
Chris is EXA's President. He's responsible for setting and managing the strategic priorities of the company to drive profitability and growth. Prior to joining EXA, he served as the General Counsel and Executive Vice President of Corporate Development for GTT Communications. Under Chris' leadership, GTT bought over 40 companies and grew annual revenues from $65 million to over $1.6 billion during his tenure. He has more than 25 years' experience of executive leadership in telecommunications. He is a well-known speaker at industry and business conferences. Prior to joining GTT in 2008, he served as an executive at StarVox Communications, Covad, XO and Net2000. He started his career as a lawyer in private practice with a number of law firms including Dickstein Shapiro (now BlankRome) in Washington, DC. Chris currently serves on the Board of Cool Technologies Inc. – a publicly traded product development company in the energy sector.

Jeff Beer
Chief Revenue Officer
Jeff leads global sales, product and marketing for EXA. Prior to EXA, Jeff was division president of GTT Carrier, where he was responsible for sales, financial performance, service delivery and customer care for the company's $500M Carrier Division which included hyperscalers, carrier, service provider and wholesale segments. Jeff was instrumental in GTT's revenue success in key financial, hyperscale and carrier verticals. Winning impactful business and changing the trajectory of GTT's success by leveraging strong existing relationships and robust commercial strategies. Jeff has worked in the telecom industry for more than 25 years, and prior to GTT he served in various leadership positions at ECI Telecom, Occam Networks, SkyPilot Networks, UTStarcom, Broadwing Communications and Sprint.
Ciaran Delaney
Chief Operating Officer
Ciaran is EXA's Chief Operating Officer. He's responsible for leading Exa's Network Operations, Engineering, Delivery, Customer Assurance, Vendor and Strategic Program Management teams. Prior to EXA, Ciaran lead GTT's Optical Engineering and Operational teams, stream lining operational and engineering processes including organizational development, while working on GTT's technical M&A strategy, Global Network integration, consolidation and the completion of complex network synergy programs. Ciaran has nearly 20 years experience in the Telecoms industry with in-depth knowledge of IP, Ethernet, Submarine & Terrestrial Optical Transmission systems. He spent much of his career at Hibernia Networks, recruiting and training the first operational teams in 2007 while building out their Global footprint. He served in multiple senior leadership roles delivering multiple industry recognised projects.
Stefan Hofland
Chief Accounting Officer
Stefan is EXA's Chief Accounting Officer, leading Exa's global finance group, including financial operations, treasury, tax and external reporting. Stefan has been with EXA since its inception and led the financial separation team that carved the Infrastructure business out of GTT in June 2020. He joined GTT in February 2018 through GTT's Acquisition of Interoute where he had worked in multiple roles for 12 years. Stefan brings 20 years of finance experience in multiple industries, 15 of which in the Telecom Industry. Stefan has held financial and operational roles of increasing responsibility in such areas as Controller, Operational Finance and Treasury and has managed multiple acquisitions and integrations.
Tony Hansel
Chief Legal and ESG Officer
Tony is EXA's Chief Legal and ESG Officer. He's responsible for all of the company's legal, human resources, environmental sustainability, social and corporate governance matters. Tony brings over 25 years of legal experience as a practicing attorney in the telecommunications industry. Prior to joining EXA, he served as senior vice president for legal, compliance and government regulatory matters for GTT Communications. Earlier in his career, he served as in-house counsel for Net2000 Communications, Covad Communications, and MegaPath, and as a lawyer in private practice with Swidler Berlin LLP (now Morgan Lewis) in Washington, DC. He began his career as an electrical engineer at SRA International, a technology consulting and system integration company.
Laura O'Brien
Chief of Staff
Laura is the Chief of Staff for EXA. In this role, she ensures decision processes, information sharing, work streams and employees, are integrated and effective. Prior to EXA, Laura led GTT's M&A team in completion of more than 20 acquisitions and over $1 billion in acquired revenue. Laura has also held leadership positions in finance, sales and marketing at AES, network solutions and MCI.
Steve Roberts
Senior Vice President, Product & Marketing
Steve is responsible for Product Strategy, Product Management and Marketing. He has 23 years' experience gained in Infrastructure companies from start-ups, including Fibernet and 360 Networks, to established players such as Global Crossing, Interoute and GTT. With a broad background in technical, engineering and commercial roles, he has led major product release, business transformation and network investment programmes. Prior to EXA, Steve served on the senior leadership teams of Interoute and GTT as VP of Product, managing a global portfolio of network services and infrastructure products.