Unlimited Flexibility
Our data centres allow a unique level of customisation of space, power, and services. As a niche colocation provider, EXA goes the extra mile to design and build customised solutions for customers. From private cages and suites, to bespoke commercial, operational, or security requirements, we strive to deliver flexible and cost-effective solutions.
---
Data centre Services 
Our 13 Tier3 equivalent data centres are in key locations across Europe and North America. They're ideally suited to Managed Service Providers, Cloud Service Providers, Content Delivery networks, Carriers, and Financial Services.
Single cabinets are available up to 10kW as standard, with private suites available of up to 1MW. Standard services include on site staff, security and remote hands services, and sites conform to industry best practices including ISO/PCI DSS/ISAE and SSAE.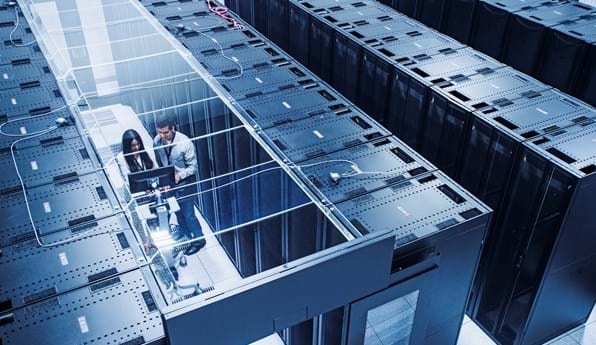 Edge data centres 
EXA helps hyperscalers to implement their Edge compute strategy. Our highly distributed colocation sites, directly connected to our scalable network, are ideally located for Edge node deployments, enabling customers to get closer to their users compared to traditional data centre campus clusters. Whether a single rack, a bespoke suite, or a modular data centre build, all these can be accommodated within our facilities.
---
Cable Landing Stations 
We have built, and operate, 18 submarine cable landing stations for our own network and on behalf our customers. Our experience covers construction of traditional buildings, as well as modular, containerised solutions. EXA offers a full suite of submarine landing services including design-build-operate of CLS and fronthaul facilities.
---
Land and Power 
EXA works with customers to secure land and power directly on our network backbone, helping them to build their own facilities. Typical deployments enable a customer to build their own Edge modular data centre next to our network. EXA is supporting the next generation of satellite broadband providers to install their space tracking stations at our network colocation sites.
---
Partnership for Growth 
Working with EXA is straightforward, no matter how simple or complex the colocation requirement.
We always offer creative technical, commercial, and contractual solutions. EXA is well placed to help customers grow their business effortlessly.
Related datasheets
EXA colocation services support customers in these sectors
Space tracking stations

 

Fintech

 

Subsea cable operators

 

Hyperscale Edge Managed service providers

 

Cloud service providers

 
Our data centres are based in