EXA Infrastructure might be a new name in the market, but behind the new brand there is a solid and leading fiber infrastructure service provider. Born out of GTT physical assets divestment, EXA starts from all the asset, industry expertise and solution driven approach inherited by well known companies in the industry, such as Interoute, Hibernia, KPNI, and more.
EXA was born from the belief of the new owners (I Squared Capital) that no credible alternatives to fiber-optic cable technology are in sight, and that in in an era of fast technological change and 'disruption', fiber-optic technology will continue to provide the backbone for global telecommunications for most of this century, if not beyond. In fact, the ever-increasing demand for fast broadband 'connectivity' in society and economy requires a reliable, affordable, and scalable state-of-the art communications infrastructure network.
As people and businesses have become increasingly connected, more and more of their everyday life and work has gone online – in less than two decades, they have increasingly become dependent on fast broadband 'connectivity'. A trend that the recent Covid pandemic emergency has made even more irreversible. To meet this demand, telecommunications providers can only rely on transmission via fiber-optic cables, and fiber-optics assets are now the indispensable backbone of today's hybrid communication network of fixed-line and mobile infrastructure and data centers.
For all the reasons above, a player like EXA will make a difference, firstly for our customers. Our clients and partners will have all the benefits of one of the largest and most advanced networks in the world, delivered by nimble, innovative teams, working responsively to simplify the experience of working with us. We offer the network scale of an established leader with the agility of a challenger. EXA can provide top-class technological know-how to deliver outstanding partnerships, but we are also ready and able to think differently and build what is needed to meet our clients' needs.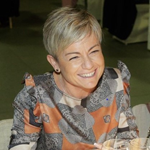 Cristina Crucini
Director Marketing at EXA
Related Articles
---
As a business that was only born last September, we are inevitably focused on the future. Our team heard at our kick-off from entrepreneur, advisor and futurist Peter Hinssen that the world has entered an age that he called 'the never normal'.
From humble beginnings over a decade ago, with only a handful of PoPs (points of presence), what has now become Exa Infrastructure has undergone quite the transformation, now with over 500 PoPs on 6 continents, covering 31 countries.
Starting a new year and setting our business intentions is exciting as it is challenging. EXA's Director of Marketing Cristina Crucini looks back at the journey, highlights and milestones achieved in 2022.