A reflection into the industry insights, innovations, and transformations showcased during International Telecoms Week (ITW) 2023 from EXA Infrastructure's Commercial Strategy Lead, Kris Stromdale.
The moment I stepped into The Gaylord National Resort & Convention Center, I could immediately sense the vibrant energy of the International Telecoms Week (ITW) 2023. The telecoms world had assembled in Washington DC, transforming it into a thriving nexus of telecommunications and technology. More than 5,900 attendees from over 110 countries, the event was a global convergence of minds. Industry veterans and newcomers alike immersed themselves in discussions about the latest tech trends. Multilingual conversations permeated registration queues, coffee spots, and elevators, reinforcing the universal language of technology that connected us.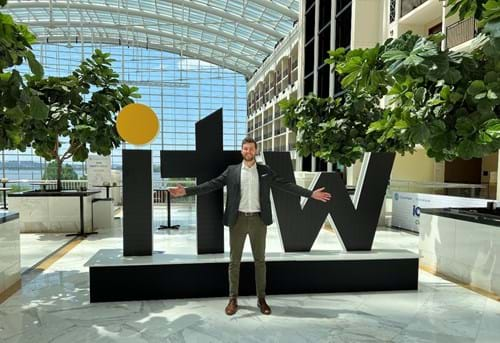 Industry deep dive: the evolution of customer expectations
Within this vast melting pot of innovative minds, I had the opportunity to make new connections with customers and industry participants. These interactions served as a vital conduit for a deeper understanding of the market pulse, providing invaluable perspectives about our customers' evolving needs and expectations.
Having joined the team just seven months ago, I was representing EXA Infrastructure - a leading force in the European and Transatlantic telecommunications infrastructure industry - at the epicentre of global telecommunications.
As the conference unfolded, my understanding of the industry deepened, my vision of the future sharpened, and my determination to contribute to its evolution fortified.
The event was a whirlwind of knowledge sharing, speedy pitching of ideas, and rapid-fire business exchanges, all of which combined to form a stimulating energy. Amid this flurry of activity, the future of the data world began to take shape. As the conference unfolded, my understanding of the industry deepened, my vision of the future sharpened, and my determination to contribute to its evolution fortified.

In the spirit of knowledge sharing and industry development, I have documented some of the key insights, trends, and personal reflections that emerged from this insightful journey. These key trends and innovations not only paint a picture of the event but also serve as important indicators for our future trajectory in this dynamic industry.
Emerging Technologies and Innovations
Artificial Intelligence (AI): The potential of AI to transform our lives is no longer merely a prediction; it's a reality we are experiencing. This phenomenon is particularly prominent in the telecommunications sector, where AI is projected to significantly reshape our data centre infrastructure and dictate the evolution of customer needs.

While growth in recent years has been predominantly fuelled by ongoing cloud adoption, it seems the next era of expansion will be driven by the fourth industrial revolution. Data volumes are escalating beyond comprehension, we anticipate a surge in extensive GPU farms for businesses to decipher this data - evidence by Nvidia's stock price, which just soared by 30%, largely driven by the growth in generative AI technologies such as ChatGPT. The relentless demand for data by machine learning (ML) algorithms mandates a vast, sturdy network of data centre interconnections, thereby emphasizing the significance of our sector in sustaining this tech-driven era.

As infrastructure operators, our primary focus must be on understanding the use-case and effectively allocating capital to support this exciting megatrend.

Moreover, the transition of software to a cloud-based SaaS model has disrupted numerous markets across various verticals, a transformation that continues to progress. As software products become increasingly intelligent through AI, it is anticipated that the software applications will begin to determine the locations of their own workloads and interconnectivity. The capacity for software to dynamically activate workloads is expected to instigate significant modifications in the global data centre infrastructure. It will be intriguing to observe how machines decide to optimise data traffic and workloads and the effect this will have on not just the infrastructure itself, but also the evolving commercial models within the industry to accommodate these dynamic customers.


Edge Computing: The concept of Edge Computing is gaining more relevance as data is moved closer to the end-user to address significant challenges that service providers encounter. The first challenge focuses on the efficient delivery of progressively high-definition and large-scale data content to users worldwide. This necessity has driven the development of an extensive ecosystem of content delivery networks. Recently, the demand for high-quality, cloud-based user experiences for software applications, gaming platforms, and AR/VR technologies has surfaced. Since it's impossible to increase the speed of light, data crucial for user experience must be located closer to the user. Connectivity will play a vital role in empowering edge sites, particularly in connecting Tier 2 and Tier 3 regions back to core data centre hubs.

The global deployment of 5G and the emergence of 5G Standalone (SA) technology, a range of ultra-low latency use-cases will arise, many of which will require edge computing for effective delivery. This growing need for processing at the network's edge will propel the expansion and development of more edge data centres. As a result, this will transform data management methods and expedite the adoption of advanced applications in areas like IoT, autonomous vehicles, and AI.
Industry Trends and Challenges
The Need for Digital Transformation: The necessity for a comprehensive digital transformation in the telecommunications sector is evident, particularly given the goal to provide customers with seamless experiences and quick service provision. With hyperscalers offering robust, global networks, streamlined IT stacks from IaaS to SaaS, and highly customer-focused models, the competitive environment for the private data centre ecosystem is intense. Consequently, it is unsurprising that IT workloads are gradually shifting to the hyperscale public cloud. Like any other industry, telecommunications operators must adapt to survive. This adaptation entails global collaboration, embracing standardised APIs, transforming business models, optimising value chains (from quotation and orchestration to provisioning, billing, and settlement), and developing digital interfaces for customers to remain relevant, competitive, and cost-efficient.

SDN (software-defined networking) is also likely to continue to play an increasingly crucial role in progressing towards ubiquitous data centre interconnectivity. It enables efficient centralised control of network traffic without the need for physical access to the network's hardware devices and facilitates enhanced agility in inter-data centre communication.

One can envisage a future where global connectivity, spanning infrastructure operators, can be quoted, procured, and spun up at the click of a button, facilitated by APIs and SDN.

Simultaneously, some carrier-neutral private data centre operators are taking the initiative to keep pace with the digital transformation wave by incorporating 'software-first' connectivity solutions into their offerings. These solutions aim to eliminate the technical barriers for customers to utilise APIs, thus providing a transparent access mechanism for customers to reach the public cloud and various other destinations within the data centre ecosystem.
Challenges of Capex Intensity: Capital Expenditure (Capex) Intensity is a concern in the current macroeconomic environment, marked by substantial headwinds and competitive pressures. With escalating costs and stress on pricing, the industry is feeling the financial strain of funding essential Capex investments to upgrade telecommunications infrastructure. Technologies such as 5G, fibre-to-the-home, and low earth orbit (LEO) satellite are included in this, all of which are crucial to meet the surging demands. Raising capital has become increasingly difficult within the industry, which places well-capitalised companies in a favourable position to seize market opportunities. In an increasingly constrained capital environment, it is even more imperative for infrastructure operators to ensure Capex is wisely allocated to achieve an optimal return on investment.
Networking and Partnerships
ITW serves as a crucible for relationships-building and forging partnerships. During the conference, I had the opportunity to engage with numerous customers and partners across diverse sectors. These conversations provided valuable insights into the opportunity for growth in the market. I was especially excited by the cloud, content, and technology sectors. Notably, technology firms advancing their efforts to deploy new cloud service capabilities nearer to the network's edge and also the emergence of LEO satellite deployments triggering considerable investments in ground stations and backhaul connectivity.
However, ITW wasn't merely about business; its also about the personal connections cultivated throughout the conference. In spite of all of the conversations around technological innovations and trends outlined above, as well as the obvious shift towards remote work, triggered by the pandemic, telecommunications continues to be a people business where the strength of human relationships carries tremendous value. ITW encapsulates this beautifully.
The social events were memorable indeed: The 'Tech Rock Fest' was a particular highlight. Jointly hosted by EXA Infrastructure and I Squared Capital's other digital infrastructure portfolio companies - HGC Global Communications, BDx Data Centers, KIO Networks, and Lightstorm, the event underscored the spirit of collaboration and camaraderie among us. Attendees had the chance to relax, enjoy music, and laughter, thereby fostering a deeper sense of unity within the industry.
ITW: Catalyst for industry innovation
ITW 2023 was more than just a conference; it was an exploration of the rapidly evolving telecommunications landscape. It underscored the need for swift adaptation to technological advances, changing customer demands, and dynamic industry trends. EXA, like most of the companies participating in this event, will use insights from ITW to inform choices and priorities as we chart our respective course into the future.
The event served as a reminder that the world of telecommunications is perpetually evolving. Staying ahead requires unwavering commitment to innovation, adaptability, and customer satisfaction.
Looking forward to next year!
Related Articles
---
Thanksgiving is right around the corner, do you have enough 'bytes' to ensure your customers are satisfied?
As a business that was only born last September, we are inevitably focused on the future. Our team heard at our kick-off from entrepreneur, advisor and futurist Peter Hinssen that the world has entered an age that he called 'the never normal'.
E-commerce adoption has accelerated even further during the COVID-19 pandemic, to the point that many businesses have had to scramble to serve customers predominantly or even exclusively online, a shift that is likely to be irreversible.