If you work in long-haul telecommunications, being a connector is not an option. Every second of every day, the EXA Infrastructure team works to keep customers connected to our network across Europe and the North Atlantic, so that they stay connected to their customers.
But it goes beyond the network. Our team is a group of more than 500 individuals who are connectors on many levels – across product management, business operations and leveraging all our support function team capability.
This influences the way that our leaders behave in doing their jobs every day, which is one of our core principles. We see leadership not as a role, but as a way of working in connecting, enabling and collaborating to get people to achieve things they may not have thought they could. That is across the whole EXA team of course, but also across our customers, suppliers and partners.
If there's one trait that our people share, it's that we're specialists. Those specialisms are often a factor in the way that we strive to connect our people, enable them and work together, and it means that a broad-brush approach will rarely lead to the desired outcome. We need to understand those specialist capabilities, and often take a bespoke approach to how we get the best from - and do the best for - our teams across more than 20 different countries.
We are not only a team of deep specialists. We recognise that we only truly unlock the value of our expertise through connecting and collaborating. I see a culture emerging here, one that I have begun to refer to as a 'culture of connectors'. And with the way that our industry and our own company continues to transform, it is a culture that we know we have to keep evolving.
At EXA, we're taking quite a different approach to shaping our culture and as a result how we develop our people than that of telecoms companies conventionally. In doing that, there are three main priority areas that I see:
Unlocking full potential: we are working to do this across our whole team, from bottom to top, with a tailored approach that goes well beyond what is typical in our sector. Our approach to capability development is focused on developing functional and leadership expertise. Specifically thinking about developing our culture, we also want to ensure that we listen fully to all of our people as we do that, so that our whole team is engaged in the journey we're on to become the best at what we do, with the broadest geographic reach offered to our customers
Being a magnet for pioneers: we are setting out to attract new talent and maximise the potential of our existing colleagues, and in doing so are placing an emphasis on people with a pioneering spirit. We want to look beyond those who are content with the status quo, and instead identify individuals who want to join our mission to shake up long-haul telecoms, with new investment and a passion for being the very best at what we do
A learning curriculum that starts from the top: we are delivering a leadership 'curriculum' that will see all of our senior people take part in a learning approach that will expand their thinking and build on their established skills. It will form the 'tip of the spear' of a broader curriculum that will span our entire business and engage everyone who works at EXA.
EXA is just a year old, and yet through previous iterations many of our team have worked together for the best part of 20 years. It is a unique situation, and as we work to unlock even greater potential across our team, we are supremely conscious that trust is built through positive action rather than mere words - so we can expect a full-bore approach to how to continue to build this culture of connectors.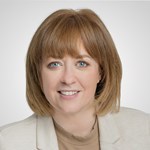 Carrie Cushing
Chief People Officer at EXA Infrastructure
Related Articles
---
Thanksgiving is right around the corner, do you have enough 'bytes' to ensure your customers are satisfied?
In the second feature on the Trans Adriatic Express (TAE), EXA's Network Investment Manager Antonios Kollaras explains how the TAE is challenging the status quo for regional cable systems as well as outlining the reliability and security features it boasts.
Senior Business Development, Subsea, Francois Malterre delves into the fascinating world of how new subsea cable systems come to life, sharing his personal insights into the changing landscape and growing demands from increasing data traffic and meeting customer expectations in an increasingly complicated world of connectivity.