EXA Infrastructure, the largest dedicated digital infrastructure platform connecting Europe and North America, and the Trans Adriatic Pipeline AG (TAP), part of the Southern Gas Corridor transporting natural gas from Azerbaijan to Europe, today unveiled an memorandum of understanding (MOU) for a joint venture (JV) to build a new fibre route connecting France with Turkey in a major expansion of EXA Infrastructure's European network.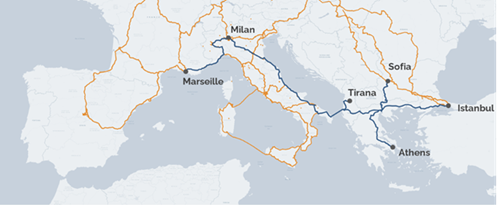 The JV will utilise a fibre optic cable already installed by TAP alongside the 878-kilometre gas pipeline, creating the only direct connection between south-east and western Europe to provide high-levels of redundancy over existing multi-stage alternative routes.
TAP has been an independent transmission system operator since late 2020. The pipeline connects with the Trans Anatolian Pipeline at the Greek-Turkish border, crosses Northern Greece, Albania and the Adriatic Sea before coming ashore in Southern Italy to connect to the Italian natural gas network. EXA will share access to TAP's fibre facilities, which are separate to TAP's gas business, along its full length. EXA and TAP expect to obtain any required clearances and the new system is expected to be operational in Q1 2023.
A resilient, high-speed and low-latency connection between south-east and western Europe has remained a missing link in the continent's network infrastructure for more than two decades. Through the new fibre optic route, the JV will add a direct link from Marseille to Istanbul to EXA's owned network infrastructure, with branches connecting to Athens, Sofia and Tirana. The new route will feature 36 pairs of state-of-the-art, high-capacity G652D optical fibre.
"What we've unveiled today is a critical component of a new digital route that links eastern and western Europe along a trade axis that goes back many centuries. This joint venture is a model for network expansion that we intend to replicate with other partners as we continue to invest in providing the best infrastructure where customers need it most," said Martijn Blanken, CEO of EXA Infrastructure.
"The world's largest organisations with the greatest amount of network traffic have been waiting for a fibre route between south-eastern and western Europe for years. Our agreement with TAP is a clear signal of our intention to invest in further strengthening our world-class infrastructure for customers with critical requirements across Europe," he said.
Luca Schieppati, TAP Managing Director, commented: "More than a year since the start of operations, we have already enhanced Europe's energy security and allowed the introduction of another cleaner energy source in the Balkans. We are pleased that through this new Joint Venture, TAP will contribute to uniting south-eastern and western Europe's digital network, bringing benefits not only to TAP's host countries, but also to the entire continent."
"The demand for bandwidth continues to soar at a rapid rate around the globe. According to TeleGeography's forecasts, the international capacity requirements for Italy, Bulgaria, Turkey, Greece and Albania are expected to increase 9-fold from 2022 to 2030. This new joint venture between EXA Infrastructure and TAP is a significant step in providing new infrastructure in this region to address surging demand," said Alan Mauldin, Research Director at analyst company, TeleGeography.
- ends -
About EXA Infrastructure
Headquartered in London, UK, EXA Infrastructure is the largest dedicated digital infrastructure platform connecting Europe and North America, and owns 112,000 kilometres of fibre network across 32 countries. EXA's network connects 300 cities and offers 14 Tier 3-equivalent data centres, with sub-sea routes that include three transatlantic cables, one the lowest latency link between Europe and North America. EXA is wholly-owned by I Squared Capital. For more information, see exainfra.net
About the Trans Adriatic Pipeline (TAP)
TAP transports natural gas from the giant Shah Deniz field in the Azerbaijani sector of the Caspian Sea to Europe. The 878 km long pipeline connects with the Trans Anatolian Pipeline (TANAP) at the Turkish-Greek border in Kipoi, crosses Greece and Albania and the Adriatic Sea, before coming ashore in Southern Italy.
TAP will facilitate gas supplies to South Eastern European countries through prospective interconnectors. In particular, Bulgaria will be able to cover up to 33% of its total gas demand through TAP after the completion of the Interconnector Greece Bulgaria (IGB). TAP's exits in Greece and Albania, together with the landfall in Italy provide multiple opportunities for further transport of gas from Azerbaijan to the wider European markets.
As a key part of the Southern Gas Corridor, TAP is strategically and economically important to Europe and essential in providing reliable access to a new source of natural gas. TAP plays a significant role in boosting Europe's energy security, supply diversification, as well as its decarbonisation objectives.
TAP's shareholding is comprised of bp (20%), SOCAR (20%), Snam (20%), Fluxys (19%), Enagás (16%) and Axpo (5%). More about TAP: www.tap-ag.com | www.twitter.com/tap_pipeline
Related Articles
---
EXA Infrastructure today announced Nick Read as its new Chairman, to support the execution of EXA's strategy to become the undisputed leader in the pan-European and trans-Atlantic data centre to data centre connectivity business.
EXA Infrastructure has appointed Carrie Cushing as Chief People Officer to lead on talent strategy and culture development across the business.
EXA is collaborating with fibre optic technology provider, Corning Incorporated, leveraging the company's ultra-low-loss optical cables.