EXA Infrastructure, the largest dedicated digital infrastructure platform connecting Europe and North America, today announced Nick Read as its new Chairperson, to support the execution of EXA's strategy to become the undisputed leader in the pan-European and trans-Atlantic data centre to data centre connectivity business.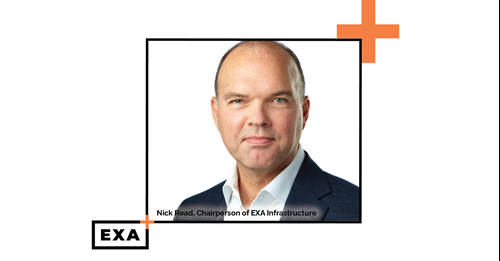 Nick is an accomplished and highly skilled business leader with over 20 years' of telecom industry experience, most recently as the Group Chief Executive Officer of Vodafone. With a deep understanding of the global telecoms markets and its future evolving needs, Nick will help drive EXA's strategic network expansion plans, commercial growth and ongoing operational excellence efforts.
EXA Infrastructure, Chief Executive Officer, Martijn Blanken said: "Nick is a titan in our industry and I am convinced that his extensive leadership and technology experience will be invaluable to execute our ambitious growth strategy. His track record in business performance and transformation will be a welcome addition to guide EXA's executive team. I am delighted to see Nick join us and I look forward to working closely with him."
On being appointed Chairperson of EXA Infrastructure, Nick Read said: "It is a privilege to be appointed Chair of EXA Infrastructure, particularly at a pivotal time for the telecoms industry where we are seeing significant investment in digital infrastructure and market growth. I look forward to working with the EXA leadership team who have a clear focus and commitment to customers, network excellence and continual investment to provide the most compelling experiences to clients and end users."
I Squared Capital acquired EXA's European, subsea and North American network infrastructure and data centre assets owned by GTT in September 2021.
Related Articles
---
EXA is collaborating with fibre optic technology provider, Corning Incorporated, leveraging the company's ultra-low-loss optical cables.
EXA Infrastructure today announced it plans to build a new dedicated Open Cable Landing Station (CLS) in Mazara del Vallo on the Italian island of Sicily to enhance its current landing and backhaul capacity.
EXA Infrastructure today announced high-performance content delivery provider CDN77 has selected EXA to scale and grow its business with multiple 400G and 100G wavelength services to support its operations.