Cable landing stations (CLS) are a pivotal aspect to modern infrastructure. As we look ahead to 2023, EXA's Thomas Fabre, Senior Director of Network Investments looks at the new paradigm and market reaction to open CLS.
Times are changing
In the late 1990's, we saw of private cables in the transatlantic corridor. EXA's Atlantic and Express cables are the perfect example of this route. Today we are seeing great investments from  hyperscalers in private cables, resulting in a new paradigm for the submarine cable market.
The hypescalers have worked with the equipment vendor, on both terrestrial and subsea routes, to disaggregate the optical line systems in order to reach an open architecture. The transponders are not anymore systematically from the same vendor as the line system itself.
Secondly, the cables have grown in size from four pairs in the early 2000's up to 24 today and we expect even more in the near future. This means that each of the owners of a cable can now own one or multiple fibre pairs.
A new business model
With the disaggregation of the optical system into independent power feed equipment (PFE) and submarine line terminal equipment (SLTE), the landing parties have more clients to serve with more diverse technologies and requirements. Each subsea fibre owner can now request its own specifications without prejudice to the other fibre owners or even the subsea operator himself: A new model to operate efficiently the CLS and its multiple components is therefore required!
To respond to these technologic changes, a new concept has emerged: the open CLS. The gist of this model is to remove any monopolistic behaviour from the landing party and CLS operator by allowing multiple carriers to serve the needs of the multiple subsea fibre pair owners. It is a functional disaggregation of landing services from the backhaul services. In effect the CLS, when open, is becoming a Carrier Neutral location, no matter where it is located. But the invisible hand of the market, a metaphor cherished by the British moral philosopher Adam Smith, has not always produced results that lead to the common good.
The era of open CLS
In order to attract more cables, or to surf on the marketing hype of openness, some CLSs have been branded Open CLSs without actually removing the barrier to entry for multiple carriers. For example, one Open CLS is open, as per its owner's comment, because it is open to welcome more cables, not more backhaul service providers In that CLS, it is our opinion that the fibre pair owners are stuck with limited choices to backhaul their traffic to their preferred data centre!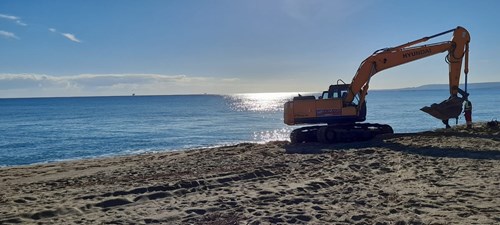 In another instance, when entering into a CLS hub, neutral carriers are requested monthly fees for a single pair equivalent to a full cable entry in a very thought after DC in London! In our opinion, this consists in a huge barrier to entry that prevent carrier neutral operators to support efficiently the fibre pair owners of a cable that would be terminated there.
Obviously one can only wonder what the benefits to the CLS users such openness are really bringing!
As a dedicated operator of hyper scale digital infrastructure, EXA continuously invests to expand the depth and breadth of its network footprint.
Our mission is to provide high quality, reliable and scalable infrastructure between the locations our customers demand, which are typically the large datacentre clusters, cloud regions and cable landing stations (CLS). As such, EXA Open CLS, such as the one recently announced in Mazara del Vallo are truly open to multiple carriers.
EXA is confident that offering choices to its CLS clients enable them to recognise the great quality of EXA infrastructure and increase the value proposition of EXA services.
Related Articles
---
EXA Infrastructure celebrated International Women's Day (IWD) by launching its inaugural mentorship program and hosted networking events for its global employees. Chief People Officer, Carrie Cushing explores how a 20 year old start up can #embraceequity and celebrate women in a historically male dominated industry.
EXA Infrastructure might be a new name in the market, but behind the new brand there is a solid and leading fiber infrastructure service provider.
As a business that was only born last September, we are inevitably focused on the future. Our team heard at our kick-off from entrepreneur, advisor and futurist Peter Hinssen that the world has entered an age that he called 'the never normal'.