In the first part of a double feature on the Trans Adriatic Express (TAE), EXA's VP Strategic Investments Steve Roberts discusses the growing opportunities for telecom operators as transport and energy projects garner investment with a spotlight on EXA connecting south-east and western European digital networks via the Trans Adriatic Pipeline.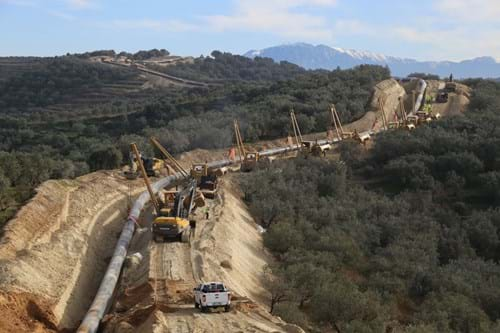 As a dedicated operator of hyper scale digital infrastructure, EXA continuously invests to expand the depth and breadth of its network footprint. Our mission is to provide high quality, reliable and scalable infrastructure between the locations our customers demand, which are typically the large datacentre clusters, cloud regions and cable landing stations (CLS).
Strengthening infrastructure
Where there is a lack of suitable existing infrastructure EXA will construct new terrestrial  and subsea cables as demonstrated by many of our recent investment projects, but where existing infrastructure is available it can provide a faster deployment time and route to market than laying new ducts.
As an alternative to purpose built telecom infrastructure, motorways, railways, oil, gas and water pipelines sometimes  have additional ducts installed for telemetry or signalling purposes. Where spare ducts are available, new fibre optic cable can be installed and used for commercial telecommunications purposes. This is not a new concept, and many such examples exist from the original telecom network builds of the late 1990's, the general lack of all types of infrastructure investment over the past two decades has stifled such long-haul telecom projects. More recently, a renewed investment in transport and energy projects has opened up new possibilities for telecom operators to deploy fibre optic cables alongside non-telecom assets. 
Spotlight: TAE
Once such example is Trans Adriatic Express, a joint venture formed between EXA and Trans Adriatic Pipeline Ag (TAP), the owner of a critical new gas pipeline connecting the Caspian Sea to southern Italy. Completed in 2020, the pipeline connects Melendugno in southern Italy, through Albania and Greece to the Turkish border at Kipoi, at which point it connects to the Trans Anatolian Pipeline (TANAP) through Turkey to Azerbaijan. Two state-of-the-art fibre optic cables have recently been installed adjacent to the gas pipeline for telemetry, monitoring and safety purposes, as well as a subsea fibre optic cable under the Adriatic Sea. 
The scope of the EXA joint venture covers the extent of the TAP territory and creates a unique fibre optic network connecting Milan, Tirana, Athens, Sofia and Istanbul with high quality, high performance and ultra reliable digital infrastructure. 
The relationship is symbiotic; TAP has constructed a masterpiece of engineering which is vital to Europe's energy independence, but its core business is the transportation of gas, not the provision and operation of telecom services.  EXA is a leading dedicated operator of digital infrastructure across Europe and the Atlantic, making it an ideal partner to TAP. 
Expert leaders in infrastructure
EXA has bought its unique experience to the joint venture - constructing over 1300km of fibre optic interconnect between the gas pipeline and the major regional traffic hubs of Bari, Tirana, Athens, Sofia and Istanbul, where it integrates seamlessly with the EXA global network. Whilst energy and transport infrastructure can often provide a unique and reliable physical route, it is often distant from the major data traffic hubs, requiring a telecom infrastructure operator to integrate it to unlock its full potential.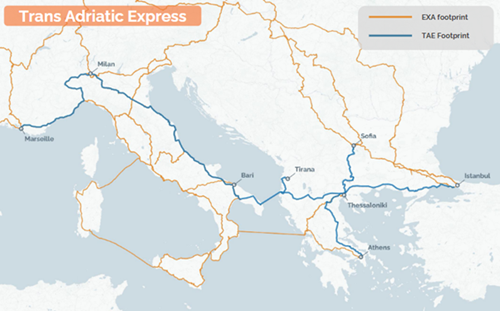 In addition to interconnecting TAP to local traffic hubs (datacentres) EXA has used its expertise to install ILA shelters at the gas valve/compressor stations and has deployed an Infinera flex-grid optical transport layer delivering leading 400G and Spectrum services. EXA provides all engineering and support functions and manages operations from its global NOC in Dublin. 
Reliability and diversity 
The creation of TAE allows EXA to provide its customers with highly reliable and differentiated routes and enables TAP to unlock additional value to its shareholders. The close cooperation between the JV members, each contributing core assets and competences has forged a solid partnership for growth.
EXA has the focus, expertise and scale to undertake such demanding and capital intensive projects. Watch this space as EXA replicates this model with other infrastructure partners across our footprint. 
In our next blog, investment manager Antonios  Kollaras discusses why TAE represents a unique proposition in terms of reliability, performance and future-proof connectivity in the Adriatic region.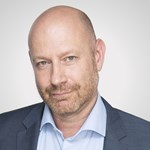 Steve Roberts
VP Strategic Investments at EXA Infrastructure
Related Articles
---
A reflection into the industry insights, innovations, and transformations showcased during International Telecoms Week (ITW) 2023 from EXA Infrastructure's Commercial Strategy Lead, Kris Stromdale.
Subsea cables are the invisible force powering the internet, data is arguably the lifeblood of our globalised world. EXA Infrastructure's Optical Systems Architect, David Lloyd looks at the industry evolution and shares his insights on what's next for global connectivity.
EXA Infrastructure celebrated International Women's Day (IWD) by launching its inaugural mentorship program and hosted networking events for its global employees. Chief People Officer, Carrie Cushing explores how a 20 year old start up can #embraceequity and celebrate women in a historically male dominated industry.