Starting a new year and setting our business intentions is exciting as it is challenging. EXA's Director of Marketing Cristina Crucini looks back at the journey, highlights and milestones achieved in 2022.
EXA Infrastructure was launched in September 2021 and 2022 was the first full year of operations under our new brand. The team expanded as did the network and scope of business and we were devoted to building EXA's brand awareness and reputation in the industry. Our focus was on making a splash regarding our dedicated network capabilities, eagle-eyed customer focus and ambitious growth strategy.
We rounded out the year by the winning two prestigious industry awards: the Best Pan-European Wholesale Carrier Award at Capacity Europe's Global Carrier Awards and Telecom Review Excellence Award for Best Fiber Infrastructure Deployment.
What made our journey throughout 2022 even more remarkable was the opportunity to work with some great partners and customers along the way. Trust and solid relationships are the key for success and I would take the opportunity to thank all of our customers for choosing EXA and partnering with us.
Islalink
Islalink is building IONIAN, a 24 fibre pair ultra-low-loss fibre optic cable across the Ionian Sea from Crotone in southern Italy to Preveza in Greece, offering an alternative to the existing ageing sub-sea cables in the region. While Bari and Genoa, along with several cities in Sicily, are well-established landing sites, Crotone is a new and diverse landing location offering faster and more resilient network links.
Esther Garcés, CEO of Islalink, stated: "Islalink has taken a major step in its international expansion by building IONIAN, the most advanced fibre route directly connecting Athens and Thessaloniki with Milan and Rome. With our landing infrastructure in Crotone, designed to accommodate multiple cables, Crotone becomes an alternative and secure landing point in south Italy. Having EXA Infrastructure as a partner is key for the project: its strong presence in Italy, with a nation-wide fiber network, its extensive pan-European network infrastructure footprint and its expertise in the deployment of terrestrial infrastructure for submarine cables give us a lot of confidence in such a challenging endeavour."
Enet
Enet, Ireland's largest open access telecoms network provider, completed a partnership agreement with EXA Infrastructure, the largest dedicated digital infrastructure platform connecting Europe and North America. The move will enable new high-speed datacentre to datacentre optical network connections between Dublin and datacentres in Europe and across the North Atlantic.
Cormac Ryan, Commercial Director of Enet, said: "We're delighted to announce this new partnership which enables us to deliver the highest quality bandwidth connections from Dublin to a host of major cities across Europe and North America. Ireland is a prime location and ideal hub for an ever-increasing number of organisations looking for a European base and providing this high capacity, data connectivity into and out of Ireland is key to serving the incredible growth in demand for secure international data connections. We're excited to be able to provide our customers with solutions that enhance international data access given the rise in need for capabilities in datacentres and cloud-based applications."
GÉANT
GÉANT is a fundamental element of Europe's e-infrastructure, delivering the pan-European network for scientific excellence, research, education and innovation. GÉANT has been relying on EXA Infrastructure for part of its network since 2012 and has recently consolidated its trust in EXA to upgrade its European network capacity via the GN4-3N project, as well as the US, via transatlantic subsea connectivity.
"GN4-3N is a largescale and demanding project, and its success depends on many factors, in particular being able to rely on committed suppliers with a can-do attitude and a range of solutions. In challenging times, EXA has consistently delivered for us." Bram Peeters, Chief Network Operations Officer at GÉANT
LSE
LSEG has moved its data centre from the City of London to a newly-built facility in London's Docklands area, which will accommodate London Stock Exchange, Turquoise and Turquoise Europe trading and market data platforms. EXA Infrastructure is one of a handful of network connectivity providers with the Accredited Connectivity Partner status required to support connectivity to service subscribers on-site.
"There can be few cases in which the quality and speed of a network is more important than when connecting to the London Stock Exchange, so the decision to entrust EXA Infrastructure as connectivity provider to the new data centre is the highest possible endorsement of our capabilities," said Andrew Haynes, Executive Vice President Product and Technology, EXA Infrastructure.
BDx
Through this global alliance, the companies will now provide an expanded geographical footprint for their product portfolios, with BDx and EXA Infrastructure enabling existing and new customers to quickly access data centres and complementary services across North America, Europe, and Asia seamlessly.
"The new partnership positions BDx as Asia's gateway into Europe and North America through EXA Infrastructure's network," said Sujit Panda, CTO of BDx. "With BDx's strength as a provider of data centre services across the Asia-Pacific region paired with EXA Infrastructure's strong hyperscale internet backbone, our customers truly have access to the top-performing connectivity environments worldwide, enabling their surge into cloud environments and drive their critical digital transformation seamlessly. Our integrated ability not only enables transformation, but also increases sustainability and offers the ability to meet end users closer to where they are."         
TAP
EXA Infrastructure and the Trans Adriatic Pipeline AG (TAP), part of the Southern Gas Corridor transporting natural gas from Azerbaijan to Europe, unveiled an memorandum of understanding (MOU) for a joint venture (JV) to build a new fibre route connecting France with Turkey in a major expansion of EXA Infrastructure's European network. TAP has been an independent transmission system operator since late 2020. The pipeline connects with the Trans Anatolian Pipeline at the Greek-Turkish border, crosses Northern Greece, Albania and the Adriatic Sea before coming ashore in Southern Italy to connect to the Italian natural gas network. EXA will share access to TAP's fibre facilities, which are separate to TAP's gas business, along its full length. EXA and TAP expect to obtain any required clearances and the new system is expected to be operational in Q1 2023.
Luca Schieppati, TAP Managing Director, commented: "More than a year since the start of operations, we have already enhanced Europe's energy security and allowed the introduction of another cleaner energy source in the Balkans. We are pleased that through this new Joint Venture, TAP will contribute to uniting south-eastern and western Europe's digital network, bringing benefits not only to TAP's host countries, but also to the entire continent."
Crosslake Fibre
EXA Infrastructure announced the commissioning of a new fibre optic network link between London and Paris that is now the most direct route, and the first under the English Channel for 20 years. The new route will offer greater capacity, resiliency and the lowest latency digital infrastructure connecting the two financial and data centre hubs, with a data round trip taking less than 5.5 milliseconds.
"CrossChannel is a next-generation cable that is capable of supporting more than 2,400 Terabits-per-second (Tbps) of capacity. It is a critical piece of Europe's network backbone and safeguards data flows between the UK and France that would have otherwise struggled to cope with growing demand," said Fergus Innes, Chief Commercial Officer of Crosslake Fibre.
WIOOC
EXA Infrastructure and WIOCC Group, Africa's leading provider of converged open access digital infrastructure, announced the signing of a deal for capacity on a new terrestrial transport route interconnecting Africa and Europe.  
"Our expanded partnership with EXA Infrastructure enables us to harness EXA's robust transport routes to Europe through Portugal on a high-capacity network. WIOCC is continually investing to strengthen Africa's global connectivity, expand open access digital footprint and ICT capabilities, and thereby extend Africa's influence and capabilities," said WIOCC Group Chief Executive Chris Wood. "Africa's internet economy is growing fast, the mobile-first continent unites almost 1.4 billion people and connectivity is fundamental to Africa's digital transformation. We are pleased to have secured this partnership and transport route with EXA." 
Our customers' and partners' success is what drives us at EXA.
We serve top organisations in intense data consuming sectors, and we try to deliver exactly what they expect from a trusted network provider: robust infrastructure, market knowledge and understanding and a team of people that assures a flowless experience at every step.
We provide a very focused set of services, and we want to be the best in the market at providing them. The least our customer need is complexity and uncertainty; we strive to be the reliable, accessible and trustworthy partner they need. Where growth happens is more to us than a brand claim. It's our daily commitment to assure the success of our customers and our people.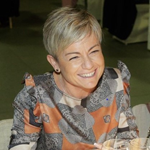 Cristina Crucini
Director Marketing at EXA
Related Articles
---
EXA Infrastructure might be a new name in the market, but behind the new brand there is a solid and leading fiber infrastructure service provider.
E-commerce adoption has accelerated even further during the COVID-19 pandemic, to the point that many businesses have had to scramble to serve customers predominantly or even exclusively online, a shift that is likely to be irreversible.
Subsea cables are the invisible force powering the internet, data is arguably the lifeblood of our globalised world. EXA Infrastructure's Optical Systems Architect, David Lloyd looks at the industry evolution and shares his insights on what's next for global connectivity.